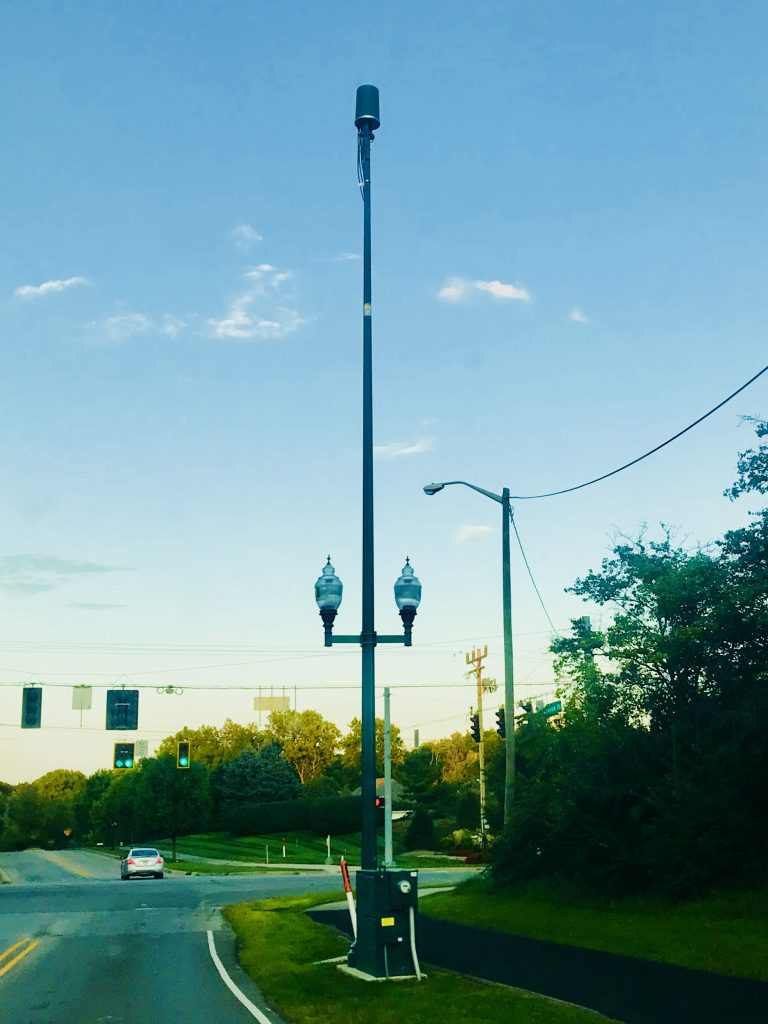 About 18 months ago, wireless small cells started popping up all around Indianapolis. The one pictured above is about a half-mile from my house. In addition to these suburban versions, built by one large mobile carrier, a different mobile carrier built a network of 83 small cells in downtown Indy. These small cells are a key architectural facet of the next generation of wireless broadband, known as 5G, and over the next few years we'll build hundreds of thousands of them across the country. This "densification" of mobile networks will expand coverage and massively boost speeds, responsiveness, and reliability. Our smartphones will of course benefit, but so will a whole range of other new devices and applications.
Building hundreds of thousands of these cells, however, will require lots of investment. A common estimate is $275 billion for the U.S. It will also require the cooperation of states and localities to speed the permitting to place these cells on lampposts, buildings, utility poles, and other rights of way. And this is where Indiana has led the way, with a decade's worth of pro-broadband policy and, more recently, legislation that's already encouraged the deployment of more than 1,000 small cells across the state.
Today, Brendan Carr, one of five commissioners of the Federal Communications Commission, visited Indiana to highlight our state's early successes – and to lay out the next steps in the FCC's program to expand 5G as quickly as possible. Carr described the key components of his plan, to be voted on at the Commission's September 25 meeting. The prospective Order:
Implements long-standing federal law that bars municipal rules that have the effect of prohibiting deployment of wireless service
Allows municipalities to charge fees for reviewing small cell deployments when such fees are limited to recovering the municipalities' costs, and provides guidance on specific fee levels that would comply with this standard
Requires municipalities to approve or disapprove applications to attach small cells to existing structures within 60 days and applications to build new small cell poles within 90 days
Places modest guardrails on other municipal rules that may prohibit service while reaffirming localities' traditional roles in, for example, reasonable aesthetic reviews
Carr emphasized that this new framework, which will bar excessive fees, will help small towns and communities better compete for infrastructure and capital. We know that wireless firms have to build networks in large "must have" markets such as New York and San Francisco, where millions of Americans live and work. High fees and onerous permitting obstacles, however, are particularly hard on smaller communities – often discouraging investment in these non-urban geographies. This new framework, therefore, is yet another important component of closing the "digital divide."
Here's video of Carr's talk at the Statehouse.